CLUSTER ORGANISATION STRUCTURE
CLUSTER= CLIMAX OF ECOSYSTEMS OF INNOVATIVE AND HIGH TECH BUSINESS
The RA cluster was born to operate at different levels and degrees, and to achieve these objectives: The capacity of research and critical mass – scientific excellence in the area of interest;
Promoting the informed design of healthy and effective organizations - match the complexity and dynamism of today's turbulent environment.
Industrial Leadership – number and size of enterprises and their presence in the market;
Participation of End Users – link to the needs of users and consumers;
Requisite Agility Cluster is supported by private and public stakeholders to convene and profile the RA Cluster. Our purpose is to promote the RA Cluster's agenda of informed design of healthy and effective organizations that match the complexity and dynamism of today's turbulent environment. We live by our values of being inclusive, collaborative and globally focused, enabling novel partnerships and cohesion.
The Ra Clusetr Map is define by a convergence of key stakeholder from academia,industry and goverment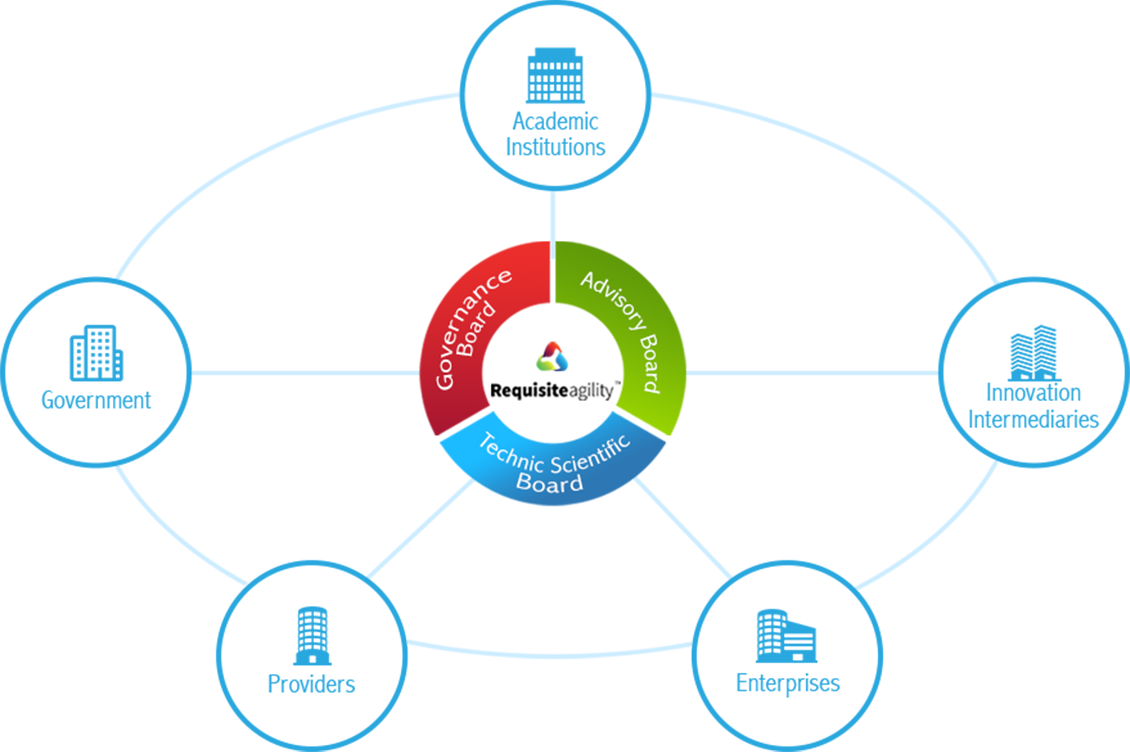 There are three assisting boards that strength the idea of Requisite agilityTM movement and help in the expansion of the RA Cluster.
To shape the future of Requisite AgilityTM
Actions are:
Monitor RA operations
Monitoring about implementation of RA in the global territories;
Development and coordination about "service lines" that identify the RA operations.
To help the governance board to define strategic actions of RA
Actions are:
The submissions of developed proposes to the Governance board
Guarantee that the RA research's content answer to user's needs.
To provide high technic and scientific skills
Actions are:
Ideas about the development of RA;
Best practices and sharing of them;
Development and dissemination of training projects;
Contribute to the strategic areas;
Identification and warning of scientific experts;
The RA Governance Board consists of selected Fellows, Founding Members or hand-picked members from the Technic Scientific Board and the Advisory board. The RA Governance Board coordinates manage the RA cluster and are accountable for shaping the future of the Requisite AgilityTM movement.
The Advisory Board helps the Governance Board to define the strategic actions of clusters. Representatives of Regions (development and research sector) compose it
The Technic Scientific Board consist of members are chosen by the Public and Private Organisations that include enterprises, Associated institutions, Universities, Research Institutes, End Users associations. They have high technic and scientific skills, and they work in universities, research institutes and category associations.
CLUSTER OBJECTIVES AND PRIORITIES
Requisite Agility convenes leaders from the ecosystem to participate in creating the first articulated set of Cluster Objectives and Priorities in order to create jobs and grow the economy in the region. This galvanizes and coordinates all-stakeholder efforts and creates transparent and achievable targets for the benefit of the entire Cluster.
CONSCIOUS LEADERS GUIDING THE RA COMMUNITY